Sat Apr 1st 2023
Substance at the Spice of Life
The Spice of Life
6 Moor Street Soho London W1D 5NA
Doors:6.00pm Admission:£7 in advance /£9 OTD
The Molotovs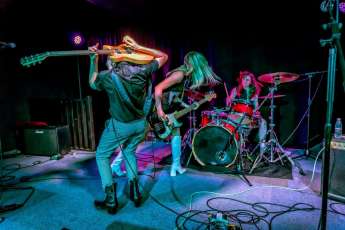 Power Pop/Rock trio The Molotovs are quickly gaining a reputation for making some serious noise on the London and beyond gig scene after ending 2021 on a high supporting The Libertines on their UK tour.

Clean, sharp originals influenced by modern day likes of The Libertines and Arctic Monkeys and further back to The Jam and Sex Pistols. Lyricist Mathew Cartlidge cuts to the chase of life around him, naturally balancing observational quips with humour.

Mathew (lead guitar and vocals), Issey Carts (bass and backing vocals)and Ice Dob (drums) power their songs through with youthful energy and vigour.

Championed by Nicky Weller (Paul's sister) as 'proper musicians getting out there', The Molotovs are a lively pulse to keep your finger on!.
George Sanders And The Parrallels
George Sanders & The Parallels are a rock/ indie band from Southend on Sea; recently signed by Bread and Butter at Golden Robot Records.

"You're like Oasis, Catfish & The Bottlemen and Arctic Monkeys but with more attitude"- Dude at gig

"Arena Ready"- Jake Peach

**BBC Introducing's top pick of 2022*
The MaCaws
Post-Punk Outfit from Rotherham
The Animists
Indie / Rock - biog to be added.