Fri Sep 1st 2017
Substance presents
The Spice of Life
6 Moor Street Soho London WD1 5NA
Doors:6.00pm Admission:£6
Louis Antoniou
2017 has seen the birth of the new face of rock n roll- Louis Antoniou, entertaining crowds across the UK with his blend of alternative rock and post modern blues.

Louis has seen a massive rise in the last year after catching the eyes at YNot Festival. He recently smashed DotoDot and is continuing to pack out venues across London.

There always seems to be a constant stream of young, solo artists trying to build steam in order to breakthrough. Most of it though, is just talk and really just smoke without the fire. However Louis is certainly one to watch.

His seriously outrageous flamboyant performing style, his heart felt tongue in cheek lyrics and crooner style, mesmerizes audiences everywhere . He was highly praised for his lyrics during his Dingwalls Show in Camden recorded for Sky Arts Living.
Proxyland
From Sao Paolo to London, Victor met Molly Meet London born and of an Indian origin and ProxyLand was born. The foundation of the music was built upon conversations about city life and the dark undertow that pervades society today. ProxyLands demos were created in Victors living room and have evolved into the dreamy yet stark noise confrontations you hear now. This year, with the addition of Tom, Matt Tester and Matt Rob, the band evolved into a full throttle five piece, allowing for the sound to develop and take a grittier turn.
Black Palms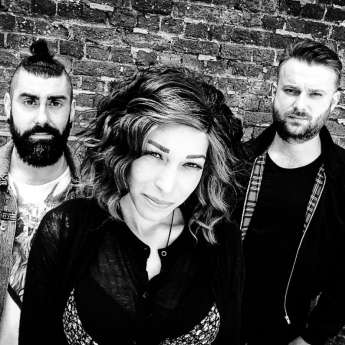 Black Palms play big, bold, bluesy-grunge rock with soulful vocals, scuzzy guitars and pummeling beats
Cloe Corpse
Forget faceless DJs. Forget boring bands. Forget YouTube covers. Cloe Corpse has arrived.

With her wild image, unforgettable voice and exceptional talent, the dance-rock BBC Introducing artist has been writing music and fronting bands since the age of 10. Her sound is an iconic hybridof phat 80s dance beats with ambient electric guitar, synth and girly pop vocals, making her this generation's newest and freshest discovery. She also writes, produces and plays every instrument you hear on her records, which is virtually unheard of in the music industry. Cloe has achieved phenomenal airplay both nationally and internationally, including on BBC Radio across the UK, Australia's KEDG Radio Sydney and worldwide via TuneIn.com, the largest online broadcaster in the world. Also having acted on TV and Film since the age of 12, she has a loyal following from playing the legendary regular character Carrie Black on CBBC's Wolfblood, a BAFTA-winning teen series that is aired in over 20 countries

This year, three of Cloe's singles, Wake Me Up, California and Holton premiered on BBC Introducing, one of which was Track of the Day. She also played Shanice in the major play The Suicide at the National Theatre from January to June, and her hilarious performance was praised in national papers such as the Daily Mail, the Evening Standard and the Financial Times. Her iTunes hit Dirty America, whose infamous video features Cloe handcuffing a cop to his cop car, caught the attention of Chanel 4 executive Timothy Root. The song will now be featured in the British independent film The Trip which will hit theatres next year, and will tour several international film festivals.

Fearless, intelligent and undeniably likeable, Cloe is not only about to bring the rockstar image back to the mainstream, but to redefine it forever.